Knowcrunch's professional diploma in digital and social media marketing
What are the frequently asked questions for the professional diploma in digital and social media marketing?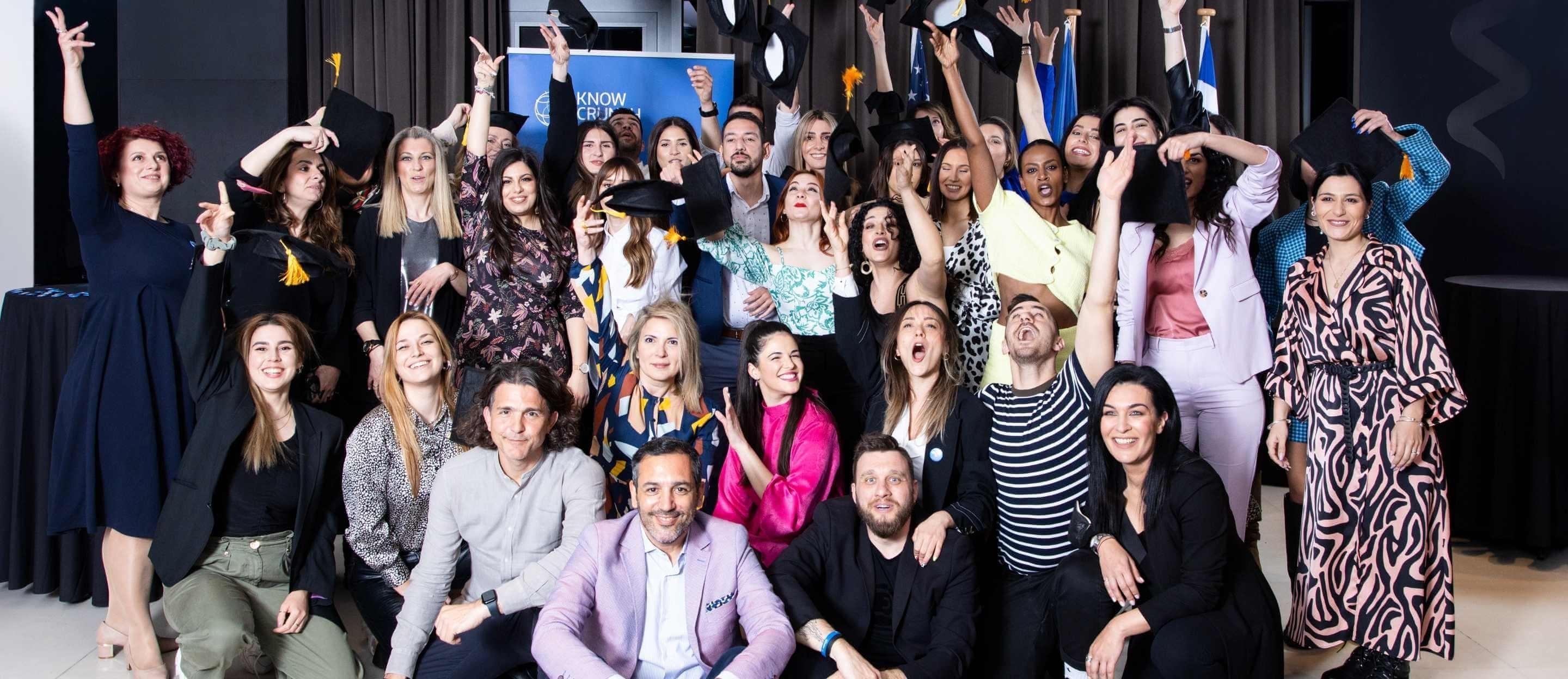 Do you want to take the next step in your digital marketing career? Do you need a boost of fresh ideas, updates on the latest digital trends and tactics, and inspiring people surrounding you? If you're ready to elevate your career by learning the latest knowledge from top-notch instructors, Knowcrunch's professional diploma in digital marketing is just for you.
Knowcrunch is a global leader in digital marketing training. The comprehensive curriculum taught in the digital marketing course is second to none. From content marketing strategy, to the intricacies of advertising platforms, to content creation and marketing, Knowcrunch puts you on the path to career success. If you're eager to find answers to the most frequently asked questions about Knowcrunch, read on!
Are there any prerequisites necessary before enrolling in Knowcrunch's training?
No specific prerequisites are necessary for the digital marketing course. However, the training is aimed at individuals, organizations and companies with some basic understanding or previous experience with digital marketing. The majority of Knowcrunch graduates previously obtained degrees from the following academic disciplines:
Marketing
Communications
Sales
Public Relations
Information technology
Who is Knowcrunch's digital marketing course for?
Knowcrunch's course is designed for individuals who are at various levels and stages of their digital marketing careers. The aim of the course is to further elevate their knowledge of digital marketing, and subsequently their careers, whether they are a novice or a veteran of the industry. The program is designed for individuals who are currently:
Executives
Influencers
Freelancers
Professionals
Entrepreneurs
Students
Academics
Furthermore, Knowcrunch is designed for companies looking to implement digital and social media channels and tactics into their existing business model, including:
Corporations of all segments
Digital & Social media agencies
Creative advertising & media agencies
Bloggers, media & publishers
Professionals of influencers marketing
Consulting firms
Internet providers
Why is the digital marketing course better than other courses available?
Knowcrunch's course is multi-award-winning, globally recognized, and turned to by major agencies and brands. It offers excellent value for money and time, as the 3-month course is at a level equivalent to a master's degree. The certification is an EQF 5 level training program, one of the highest and most recognized available. This is credited to the outstanding curriculum & syllabus, which:
Includes 80% exclusive topics which cannot be found in competition
Is updated daily, and even 10 minutes before each class
Has the proper length to guarantee more hours than the competition
Covers all channels, strategies & tactics in-depth, not just the "basics"
The instructors at Knowcrunch are what really sets the program apart from the competition. Knowcrunch employs highly reputable and regarded instructors who:
Are market leaders or influencers with hands-on operating experience
Are certified trainers who passionately teach and mentor students
Are invested in each student and are available to answer all questions
How often are the content, sections and lessons updated for the professional diploma in digital marketing?
All training presentations and bonus materials are updated on a daily basis, and any new changes are immediately part of the curriculum. The material in the digital marketing course is updated monthly, and when new components arise they are immediately added to the syllabus. Finally, training videos are updated quarterly, and when critical information arises new videos are immediately put into production.
Do students participate in team exercises and hands-on strategies?
Yes. Team exercises and hands-on strategies are at the heart of the course. An abundance of real-life case studies and briefs for digital and social media channels are a key component of the curriculum. Along with fellow classmates, students work on the following exercises and presentations:
Search engine optimization check-up
Content marketing strategy
Social media posts strategy
Advertising media plan strategy
Digital marketing reporting
Digital marketing complete strategy
Is there access to learning presentations & bonus material?
Yes. Knowcrunch students are granted unprecedented access to all educational material from the digital marketing course, including presentations in PDF format and bonus material. The educational material is strictly copyrighted and available only for those who obtain the professional diploma in digital marketing.
Do students receive a diploma or certification?
Yes. Students who successfully pass the exams and graduate, receive an official, recognizable professional diploma from Knowcrunch. Knowcrunch's certification and advanced knowledge is trusted by major agencies and the international industry. It certifies to customers, co-workers and partners that diploma earners are top-tier in the industry. Students who don't pass the exams receive a certificate of completion.
Is there an official alumni network graduates can be a part of after graduating from Knowcrunch's digital marketing course?
Yes. All graduates automatically become members of the official alumni group. Social media engagement with other alumni is highly encouraged via Facebook group Knowcrunch Official Alumni. Once a part of the alumni network, the privileges & benefits available to recent graduates are:
Special price for all returning graduates for future Knowcrunch courses
Exclusive subscription price for annual access of e-learning courses
Discounts for Master degrees from other universities and colleges
Personal recommendations from Knowcrunch instructors (upon request)
Free participation in special crash courses for skill enhancement
Free participation in all networking events organized by Knowcrunch
What skills do students gain after completing the digital marketing course?
After successfully completing the course, students are able to implement their learned knowledge and skills immediately and in real-world situations. Some of the gained advantages include:
1. Gain overall knowledge
Understand the web & social media consumer behaviors and decisions
Compare and leverage all digital & social media channels and tools
2. Plan & form any strategy
Draft digital and social media marketing tactics
Plan and create complete action plans with a detailed budget
Use digital and social media tools into communications and media mixes
3. Implement anything
Understand and use accurately the digital terminology
Acquire the most-in-demand digital skills of the market
Find, evaluate, manage service providers & partners
Execute strategies through a strategic project structure
Increase conversions and learn how to generate more sales
Reduce wisely your expenses and budget spending
Hire the right digital and social media marketing executives
4. Measure & evaluate results
Monitor & optimize the impact of digital performance and effectiveness
Report all digital & social media results, activities and KPIs
5. Offer & sell services to others
Sell digital & social media services to your clients as a freelancer
Include digital and social media services in businesses & revenue model
Implement the right services and thrive in the market
With a professional diploma in digital marketing, what are job prospects like?
Even after graduation from the digital marketing course, Knowcrunch cares about students' professional growth and development. Alumni are privy to a number of job opportunities and advantages, including:
Frequent networking events to mix & match professionals
Access to the biggest active Facebook community of marketing professionals
Immediate access to digital and social media job posts
Guidance to jobs in brands, digital agencies and corporations
Is there an opportunity for social media engagement with an active online community for graduates?
Yes. The digital & social media nation, the largest Greek-speaking community of marketing professionals and encompasses brands, agencies, influencers, marketing professionals, and former students of Knowcrunch's professional diploma in digital marketing. It is an excellent space for exploring job positions or following the latest news.
Discover the professional and personal impact of Knowcrunch's digital marketing course now
At Knowcrunch, we take pride in being global leaders in digital marketing. We offer the most cutting-edge curriculum that is constantly being updated. Our highly regarded instructors are some of the very brightest in the industry, and they work tirelessly with their students to give them the best tools for real-world success.
Students learn everything from content marketing strategy to how to craft the perfect social media post for your business, to everything in between. With access to the latest tools, tips and trends, you are guaranteed to gain a competitive edge with Knowcrunch. If you're ready to be the next leader in the industry, sign up for a Professional Diploma in Digital and Social Media Marketing in Athens, in Thessaloniki today or just start watching now our e-learning digital marketing program!