The event is completed
Please check all our upcoming events in this city .
Fashion Industry & Ecosystem
Fashion Style Positioning
Sourcing Fashion Products
Producing Fashion Products
Fashion Wholesale Distribution & Sales
Fashion Retail & Online Distribution & Sales
Fashion Audiovisual Content
Fashion Public Relations, Events & Shows
Fashion Media Promotion & Advertising
Fashion Digital & Social Media Marketing & Advertising
Fashion Marketing Strategy & Budget
Fashion Business Management
Fashion Exams & Graduation
A valuable and very interesting learning experience. Over the duration of the course I gained a lot of knowledge on digital marketing and social media as well as practical skills and strategies that will be beneficial to me. The course was well structured in terms of theory and practice and the instructors are all "one-of-a-kind", fun, memorable and educational - everything a good course is all about. Highly recommended...
This course has been a truly valuable experience! The knowledge aquired is exactly what is takes to make you a digital specialist! The instructors are inspiring, helpful and supportive! But the greatest asset of this diploma, i'd say is the bonding with new people, the working in teams, the hands on exercises and the networking! That of course is also cultivated by the course itself straight from the beginning. I would like to congratulate the people involved in the making of this diploma. Thank you!
Ξεκίνησα το Professional Diploma in Digital & Social Media αρχικά για να διευρύνω τις γνώσεις μου σε ένα αντικείμενο που τα τελευταία χρόνια αποτελεί τάση και δημιουργεί πολλές συζητήσεις. Στη πορεία των μαθημάτων έμαθα πως μπορεί το Digital & Social Media να αποτελέσει το βασικό κομμάτι στις πωλήσεις, στο marketing αλλά και στη στρατηγική ανάπτυξης και εξωστρέφειας οποιασδήποτε εταιρίας. Οι γνώσεις που προσφέρουν τα μαθήματα, χωρίς αμφιβολία, καλύπτουν επάξια τις ανάγκες επαγγελματιών και μη που θέλουν να μάθουν περισσότερα για το συγκεκριμένο χώρο. Τέλος, δεν θα μπορούσα να παραλείψω ότι μετά από αυτή την εμπειρία νιώθω ότι ανήκω σε μια μεγάλη Digital οικογένεια με υπέροχους ανθρώπους. Ευχαριστώ KnowCrunch!
Πολύ χρήσμο course, μου έδωσε τη δυνατότητα να εμβαθύνω σε κομμάτια του digital με τα οποία ήδη ασχολούμουν στη δουλειά μου. Πλέον έχω πολύ καλύτερη κατανόηση του πώς πρέπει να δουλεύεται σωστά μια digital στρατηγική, είμαι σε θέση να αναγνωρίζω λάθη και προβλήματα και σε μεγάλο βαθμό να συντονίζω τη βελτίωσή τους. Το πρόγραμμα των μαθημάτων καλύπτει όλο το φάσμα των ενδιαφερόντων που θα απασχολήσουν κάποιον που ενδιαφέρεται για τα ψηφιακά μέσα και τις δυνατότητές τους και οι instructors είναι άνθρωποι του χώρου που έχουν την απαραίτητη γνώση και εμπειρία.
Άρτια δομημένο με πολλές έξτρα πληροφορίες πέραν των εισηγήσεων, εξαιρετικοί εισηγητές. Περιλαμβάνει όλο το εύρος εκπαίδευσης όσον αφορά τα social media - digital marketing σε βάθος. Λαμβάνει κανείς γνώση, εμπειρίες, food for thought, new way of thining!
I loved the diploma,helped a lot,even if I still have many things I did not understand,but I know I can follow again some lessons,which is good because now I know better what I don t know..
Πολύ χρήσιμο course για όσους ασχολούνται με την επικοινωνία γενικότερα και θέλουν να πάρουν τις βασικές πληροφορίες για τη δουλειά τους με γρήγορο και αποτελεσματικό τρόπο.
The Professional Diploma in Digital and Social Media is a comprehensive course covering both basic and advanced knowledge. It is a rather practical course with experienced instructors active in.
This Diploma has opened my eyes to may topics. I have a much better understanding on how social media works, depending on what purpose someone wishes to use it and have also learnt about digital marketing. I am using the knowledge I obtained during the course at work and am feeling much more confident. I really enjoyed the group exercises and found them very beneficial. The instructors were amazing and always willing to help us with our inquiries. I met very capable and smart people which I am grateful of and will be keeping in contact with them. I will definitely be coming back to another course in the future. I will miss our classes. Thank you Knowcrunch.
It is a great honor to be part of this digital family. They transmit you inspiration, knowledge and everything you need to know, in order to dive into the digital world. But the most important of all is that you can see the passion in their eyes, while teaching. This gives you the power to move on, learn more, transform yourself and now that its over to thrive. Thank you!
Knowcruch Diploma was a remarkable overall experience! Specialized teachers, friendly environment and especially, serious approach to the issues. The only thing that I would recommend to the organisers, it would be to set up a placement test before starting the lessons so that they can assess the knowledge of the individuals in order to redisign the cource level for some of them, accordigly. Nice people, smart schedule! I m happy that I found new friends and perhaps potential partners, not only in the classroom, but also in a wider networking community.
Με βοήθησε σημαντικά στην κατανόηση του νέου digital environment, καθώς, δουλεύοντας πολλά χρόνια τα offline media, ήταν απαραίτητο να εμπλουτίσω τις γνώσεις μου με updated digital scene. Χάρη στο σεμινάριο, έμαθα πολλά νέα πράγματα και "έβαλα στη θέση τους" πολλά κομμάτια του "puzzle"
Για μένα ήταν μια πολύ όμορφη εμπειρία σε πολλαπλά επίπεδα. Εξαιρετικά καλά οργανωμένο και ενημερωμένο υλικό, εισηγητές με υψηλό επίπεδο γνώσεων και εμπειρίας και μια πολύ όμορφη ομάδα που με συνόδεψε σε αυτό το σύντομο αλλά όμορφο χρονικό διάστημα. Ευχαριστώ ιδιαίτερα τον Αποστόλη Αιβαλή για την υπέροχη δουλειά που κάνει και για το κενό στην αγορά αλλά και στις γνώσεις που προσπαθεί αξιόλογα να καλύψει σε αυτό το αντικείμενο.
Εξαιρετικά ενδιαφέρον και χρήσιμο diploma που πέρα από θεωρητικές και τεχνικές γνώσεις, προσφέρει και ένα "άνοιγμα μυαλού" ως προς τον τρόπο αντίληψης του ψηφιακού μάρκετινγκ συνολικά. Πραγματικά προσεγμένο σε κάθε του λεπτομέρεια!
It was a unique experience for all attendees, our instructors have deep understanding of their markets and they helped us develop new skills and obtain knowledge! Step-by-step we all gained a skill set of a digital marketer capable of managing the digital marketing needs of any organization. I will certainly choose to attend another course in the near future!
Great experience! A complete training program with many useful hands-on workshops! I strongly recommend it!
Είμαι απόλυτα ικανοποιημένος που αποφάσισα να παρακολουθήσω το Digital Diploma της KnowCrunch για τους εξής λόγους: Οι εισηγητές είναι όλοι γνώστες του αντικειμένου, αυτό που στη γλώσσα του digital και, όχι μόνο, ονομάζουμε Authority, είναι πρόθυμοι να απαντήσουν σε κάθε απορία, ενώ η ύλη του Diploma είναι οργανωμένη και δομημένη με τέτοιο τρόπο που βοηθά τον σπουδαστή να κατανοήσει και να αφομοιώσει αποτελεσματικά τις επιμέρους ενότητες. Με δυο λόγια, είναι η ιδανική επιλογή για όποιον ενδιαφέρεται να βουτήξει στα βαθιά νερά του Digital Marketing.
Παρακολούθησα το Digital Marketing Diploma της KnowCrunch στη Θεσσαλονίκη πριν από τρία χρόνια, τότε που ακόμα η Digital κοινότητα ήταν μικρή και συγκεκριμένη. Αποφοίτησα μαθαίνοντας πώς να γράφω ψηφιακά, πώς να χρησιμοποιώ τα Social Media προς όφελος μου και πως να διαχειριστώ μια διαδικτυακή κρίση. Μα πάνω απ' όλα γνώρισα επαγγελματίες που μου έδειξαν το σωστό δρόμο. Δρόμο που πλέον μπορώ μόνος μου να ακολουθήσω. Ευχαριστώ πολύ παιδιά :)
Αν και στην αρχή ήμουν επιφυλακτικός για το τι θα μάθω (λόγω ειδικότητας μου), τελικά το αποτέλεσμα ξεπέρασε τις προσδοκίες μου! Το σημαντικότερο που έμαθα είναι πως πλέον μπορώ να σκέφτομαι ως ένας επαγγελματίας Digital Marketeer, να κατοστρώνω στρατηγικές digital marketing και να βρίσκω τις λύσεις είτε εγώ είτε να βρίσκω τους πόρους για να υλοποιηθούν. Μακάρι να είχα την δυνατότητα να το παρακολουθήσω όλο το course ξανά από την αρχή.
I believe that this course is an excellent gathering of all knowledge around digital & social media. It is the best choice if you are a newcomer to the industry or even if you are already working.
Μια από τις καλύτερες & πιο ουσιαστικές εκπαιδευτικές εμπειρίες. Οι instructors μας αντιμετώπισαν πρώτα ως μαθητές, μετά ως επαγγελματίες και στην πορεία και ως φίλους. Αυτό που έκανε τη διαφορά όμως ήταν ότι η θεωρία που μαθαίναμε γινόταν πράξη με ομαδικές εργασίες μέσα στο αμφιθέατρο. Πλέον ανήκω σε μια ομάδα - παρέα που έχουμε ένα απόλυτο κοινό ενδιαφέρον, Digital & Social Media Marketing.
'Learn from the best' is not just an inspirational quote but a pragmatical one as far as it concerns Professional Diploma in Digital & Social Media by KnowCrunch.Attending the course was by far an enjoyable, engaging and highly educational experience provided by the 'elite' of highly talented professionals.Personally, I started with high expectations already carrying a long experience in pr & communications; yet realizing the importance of keeping up with social trends and the value of continuous self-improvement and growth. Undoubtedly, this course addresses every communication pro's need to follow all shifts in communication trends and integrate the best insights, tools and practices in own way of working.


Digital diploma offered me a great educational experience as well as an opportunity to develop my skills in digital marketing. Our instructors were the best professionals in the market,ready to answer any question and help us with any problem that may occure. Overall it was a great experience I will never forget and I recommend this diploma to anyone who wants to gain a complete and in depth knowledge in the field of digital and social media marketing.
The truth about the digital diploma is that your do learn. You learn everything you need to completely understand and become a great professional in our digital era. But you also transform. Your mindset expands and you see how anything is possible and you get empowered to act. That is how you thrive.
Στο diploma, αποκτάς περισσοτέρα πράγματα απο γνώσεις πάνω στα social media και το digital marketing. Γνωρίζεις την αγορά, κάνεις τις γνώσεις σου πράξη και έρχεσαι σε επαφή με πετυχημένους ανθρώπους του χώρου που είναι έτοιμοι να περάσουν τη γνώση τους σε σενα! Ένα course που όποιος θέλει να ασχοληθεί με το digital marketing δεν πρέπει να χάσει!
Η συμμετοχή μου σε αυτό το σεμινάριο, υπήρξε κάτι παραπάνω από ικανοποιητική. Γνώρισα πολύ ενδιαφέροντες ανθρώπους, και καθηγητές που πραγματικά πολλές φορές υπερέβαλλαν εαυτό για να μας βοηθήσουν. Το αντικείμενο το προσέγγισα στην αρχή με δισταγμό, αλλά σχεδόν αμέσως κατάλαβα ότι είναι σίγουρα το marketing όχι μόνο του μέλλοντος, αλλά κυρίως του παρόντος. Ο όγκος των πληροφοριών που πήρα από αυτό το σεμινάριο είναι πραγματικά πολύ μεγάλος, αλλά και πάρα πολύ σημαντικός. Στο τέλος του σεμιναρίου, και καθώς προετοιμαζόμουν τόσο για τις ομαδικές εργασίες, όσο και για τις τελικές εξετάσεις συνειδητοποίησα ότι αυτός ο κατά τα άλλα τεράστιος όγκος πληροφοριών, μου ήταν τόσο κατανοητός που πραγματικά ξαφνιάστηκα με το ότι κάτι που στην αρχή φάνταζε πολύ απαιτητικό, μετά από τόσο καιρό, είχε γίνει απλά... εύκολο. Έχω προσωπικά ευχαριστήσει όλους τους καθηγητές, και ιδιαιτέρως αυτούς που για εμένα υπήρξαν πηγή έμπνευσης, και νομίζω ότι πλέον χρωστάω και ένα πολύ μεγάλο ευχαριστώ και στον Τόλη Αϊβαλή, γιατί πραγματικά το ενδιαφέρον του για όλους μας ξεπερνά κάθε προηγούμενο, και γιατί ξεδίπλωσε μπροστά μου πολλούς νέους ορίζοντες, που δεν σκεφτόμουν καν ότι υπήρχαν. Είναι πραγματικά το καλύτερο diploma της αγοράς, και σίγουρα το καλύτερο δώρο που θα μπορούσα να κάνω στον εαυτό μου, και στην επαγγελματική μου εκπαίδευση. Φυσικά το συνιστώ ανεπιφύλακτα σε όλους. Πρέπει να το παρακολουθήσουν χωρίς καμία δεύτερη σκέψη.
To course είναι μία ολοκληρωμένη ομπρέλα γνώσης πάνω από το χώρο του digital & social media που σου επιτρέπει επάξια, ως στέλεχος επιχείρησης να κατανοήσεις και να αξιολογήσεις τις προτάσεις των agencies που θα συνεργαστείς, και ως ελεύθερος επαγγελματίας να σταθείς συμβουλευτικά δίπλα στους πελάτες σου.
A thorough and always up-to-date material, with instructors following up the latest changes and the newest trends and always being available and willing to answer any possible question!
An absolutely inspiring and motivating diploma that gets you out of your comfort zone and provides you with all the necessary skills in order to succeed in various sectors !
A life changing experience for many reasons!You learn a lot, you try a lot and you win a lot!
Innovative, updated, well structured, organised, very friendly environment, new opportunities to catch.
Είναι ό, τι καλύτερο έχω κάνει στη ζωή μου!Όταν το ξεκίνησα, δεν περίμενα με τίποτα ότι θα μου άλλαζε ολόκληρη τη ζωή!
Βλέποντας τη δυναμική του digital marketing & social media, ήθελα πολύ να εξελίξω τις γνώσεις μου σε αυτό τον τομέα. Αρχικά επέλεξα ένα international e-learning course το οποίο, ναι μεν μου έδωσε κάποιες βασικές γνώσεις αλλά όχι τόσο up to date πληροφορίες και εξάσκηση. Στη συνέχεια, ύστερα από έρευνα και συζήτηση με άλλους φοιτητές/εισηγητές διαφόρων diplomas στην Ελλάδα, επέλεξα το συγκεκριμένο δίπλωμα όπου και το συστήνω ανεπιφύλακτα. Σε ένα πολύ ωραίο- φιλικό κλίμα, με άρτια ενημερωμένους εισηγητές (από τους καλύτερους στην ειδίκευση τους στην Ελλάδα), πολύ καλή οργάνωση του course, ολοκληρωμένη κάλυψη όλων των σχετικών topics και πολύ καλό επίπεδο φοιτητών, πέρασα 3 εποικοδομητικούς μήνες διασκεδάζοντας και μαθαίνοντας. Πλέον θεωρώ πως διαθέτω τις γνώσεις που έψαχνα και που θα με βοηθήσουν στην επαγγελματική μου εξέλιξη και πορεία.
Ήθελα να ενημερωθώ για τον κλάδο του Digital Marketing και αυτό το εκπαιδευτικό πρόγραμμα κάλυψε όλες τις προσδοκίες μου. Στην KnowCrunch πείρα όλα τα εφόδια που χρειάζομαι για να μπω στο χώρο αυτό ώστε να το ασκήσω επαγγελματικά. Ήταν ένα πλήρες εκπαιδευτικό πρόγραμμα με γνώσεις, εργαλεία και πρακτικές που είναι χρήσιμα στην καθημερινότητα ενός Digital Marketing Professional. Οι εισηγητές μας ήταν πάντα πρόθυμοι να μας βοηθήσουν και ως επαγγελματίες του χώρου να μας μεταφέρουν τις γνώσεις τους σύμφωνα με τις τελευταίες εξελίξεις στο χώρο. Όλα αυτά έγιναν πράξη σε ένα υπέροχο κλίμα, με πάρα πολύ ενδιαφέροντες
Όλη η εμπειρία ήταν φανταστική και έμαθα πολύ περισσότερα απ όσα περίμενα ότι θα μάθω. Το μέλλον είναι αυτό το diploma και το συστήνω ανεπιφύλακτα.
Απο την αρχή μέχρι το τέλος ένα υπέροχο ταξίδι που δεν θέλεις να τελειώσει. Μια εμπειρία που σου αλλάζει τον τρόπο σκέψης και σε εντάσσει στον πραγματικό κόσμο του digital marketing και των social media. Ανυπομονώ να συνεχίσω με τα επόμενα Certificates της KnowCrunch.
Joining this course has been a unique experience for me. I am now equiped with a lot of things which make my life easier at work. I have acquired important knowledge and gained certain experience by applying all this in reality. Overall, I am glad that I have been a part of this course and the community that KnowCrunch has created.
Το KnowCrunch απευθύνεται σε όσους θέλουν να κατανοήσουν τη διαδικτυακή επικοινωνία και να αξιοποιήσουν τους μηχανισμούς λειτουργίας και χρήσης των ψηφιακών μέσων. Ανταποκρίνεται όμως, και σε έναν από τους πρωταρχικούς ρόλους της εκπαίδευσης που είναι η πρόοδος. Το KnowCrunch αποτελεί μια στρατηγική αυτοβελτίωσης.
Eξαιρετική εμπειρία! Έμαθα πράγματα πολύ χρήσιμα τοσο για την δουλειά μου όσο και για το κομμάτι του marketing που δεν γνώριζα. Σε μια Ελλάδα που βιώνει αυτή την δύσκολη οικονομικά και κοινωνικά περίοδο είναι ότι πιο αισιόδοξο και χρήσιμο να γίνονται τέτοια σπουδαία πράγματα. Μπράβο σε όλους τους συντελεστές!
Είμαι Eshop manager σε εταιρεία με γυναικεία ενδύματα. Το digital & social media diploma της Knowcrunch ήταν το καλύτερο δώρο που θα μπορούσα να κάνω στον εαυτό μου ... και στην εταιρία! Καλύπτει πλήρως όλο το digital era , είναι ενημερωμένο με όλες τις τελευταίες εξελίξεις και χωρίς δυσκολία σε καθοδηγεί βήμα βήμα προς το "χτίσιμο" της πιο κρίσιμης & επιτακτικής ανάγκης για κάθε Brand-υπηρεσία... της digital στρατηγικής!Ήταν ένα απολαυστικό 3μηνο, με απίστευτους instructors, άπειρο γέλιο, ουσιώδεις γνώσεις, "κάποιο" άγχος και νέες φιλίες! Till next time Knowcrunch...xxx
It was a great experience to live it with amazing people that I met on that Diploma. Social media and digital marketing is something that you need no matter what you do. Even though for yourself. After the Diploma, you have all the knowledge, current knowledge, that you can directly apply on your business, on your crazy ideas, on the company that you work for.Totally recommended!
Το συγκεκριμένο diploma είναι πλήρες και με ορθολογική ροή εκμάθησης. Έχει να προσφέρει γνώσεις και best practices σε ενδιαφερόμενους του digital marketing ανεξαρτήτου κλάδου ενασχόλησης.
Θέλοντας να μάθω περισσότερα πράγματα γύρω από το digital και τα social media, τα οποία χρησιμοποιούσα ήδη στην δουλειά μου, επέλεξα το diploma της Knowcrunch και η επιλογή με δικαίωσε! Μέσα από το diploma πήρα όλα τα απαραίτητα εφόδια που χρειαζόμουν για να γίνω ένας digital super hero! Όλοι οι instructors γνωρίζουν πολύ καλά το αντικείμενο τους ενώ είναι πάντα πρόθυμοι να σε βοηθήσουν και όλα αυτά σε ένα πολύ ωραίο περιβάλλον που γνωρίζεις νέους φίλους αλλά και μελλοντικούς συνεργάτες. Είναι μια εμπειρία που την συστήνω ανεπιφύλακτα!
Το καλύτερο δώρο που έχω κάνει στον εαυτό μου.
Η «ημιμάθεια» μου αντικαταστάθηκε με την «πλήρη» κ ξεκάθαρη γνώση, άλλαξε η τρόπος σκέψης μου, η προοπτική μου, η θέση μου απέναντι στα πράγματα.
Έγινε ένα μικρό θαύμα, στον αλγόριθμο του μυαλού μου.
Σας ευχαριστώ πολύ.-
Μετά το τέλος του Diploma της Knowcrunch, δηλώνω ερωτευμένη με τον κόσμο του Digital Marketing! Το course μου έδωσε γερές βάσεις για όλα όσα πρέπει να γνωρίζει ένας Digital & Social Media Specialist και με βοήθησε να βγω στην αγορά εργασίας! Το συστήνω ανεπιφύλακτα!
Το digital & social media diploma μου έμαθε να κάνω σωστή και επαγγελματική χρήση των digital εργαλείων που όλοι χρησιμοποιούμε καθημερινά. Σωστή συχνότητα μαθημάτων, άρτια καταρτισμένοι instructors και ένα inspiring περιβάλλον που δεν σου αφήνουν περιθώρια να θέλεις κάτι άλλο από το να γίνεις κι εσύ ένας digital super hero!
Ένα ολοκληρωμένο course που σου δίνει όλα τα εφόδια για να ξεκινήσεις με αυτοπεποίθηση στο χώρο του social media marketing. Οργανωμένη και συνεχώς ανανεωμένη ύλη, με πολλά extras που σου δίνουν ερεθίσματα για να βελτιώσεις τις δεξιότητές σου , εισηγητές με μεταδοτικότητα, που ξέρουν το αντικείμενό τους και μπορούν να σε εμπνεύσουν.
To Professional Diploma in Digital & Social Media της Knowcrunch αποτελεί μία οργανωμένη και πλήρη γνωριμία με τα μυστικά του ψηφιακού τοπίου σήμερα. Σε φέρνει σε επαφή με όλες τις βασικές παραμέτρους του Digital, από σχεδιασμό ιστοσελίδων και e-shops μέχρι διαφημιστικές εκστρατείες και ψηφιακή στρατηγική. Αναλύει με κάθε λεπτομέρεια τα απαραίτητα συστατικά για μία επιτυχημένη ψηφιακή παρουσία και πορεία.Είναι σταθμισμένο στις τρέχουσες ανάγκες και τις απαιτήσεις όχι μόνο της Ελληνικής, αλλά και της παγκόσμιας αγοράς.Συστήνεται ανεπιφύλακτα!
Το πληρέστερο,πιο ολοκληρωμένο και σωστά δομημένο από άποψη γνώσεων και ειδίκευσης diploma στην Ελλάδα! Χάρις την υψηλού επιπέδου ομάδα των εισηγητών καταφέραμε να μάθουμε και εν τέλη να ειδικευτούμε και να ξεχωρίσουμε στον κόσμο του digital marketing! Αυτό είναι το diploma που θα κάνει τη διαφορά στην επαγγελματική σας σταδιοδρομία αλλά και στο μέχρι τώρα τρόπο σκέψης σας!
Excellent up-to-date courses and Exceptional instructors who inspire you with their expertise and ethics! Deeply thankful for the amazing experience!
A very effective approach on the subject. No matter your level of expertise, you will definitely gain a lot out of this. The best up to date/constantly evolving course, for the ever-changing world of digital marketing.
Εργάζομαι ως υπεύθυνη Μάρκετινγκ στο χώρο της εκπαίδευσης. Αναμφισβήτητα είναι το πιο οργανωμένο και πλήρες σεμινάριο Digital Marketing στην Ελλάδα!
As I did not have any previous experience in social media, the seminar was an enlightenment for me!It covered all aspects and the instructors were superb!
While I learnt many amazing digital and social media practices by instructors who are experts in their field, I came away particularly impressed by the practicality of the tools and knowledge acquired as well as the teaching approach; fast paced, challenging but also very rewarding!I thoroughly enjoyed the modules and learned many very useful strategies for editing web content. It is an excellent, meaningful training program for working professionals, and it is likely be the best seminar experience I 've ever had.
Knowcrunch Diploma for Digital & Social Media Marketing was the best thing I could do to advance my knowledge and career. I strongly recommend it to marketing professionals/ company executives/ business managers. The syllabus, the instructors, the atmosphere and of course the networking opportunities are really great. All in all, it was a wonderful experience - I am actually missing it!
Τεράστια γνώση, αμέτρητα εργαλεία,ανεξάντλητο πεδίο δράσης.Δεν θα ήταν υπερβολή να πω ένα από τα καλύτερα training που έχω παρακολουθήσει ποτέ.Συγχαρητήρια σε όλη την ομάδα της Knowcrunch
Χωρίς να έχω background στο Marketing, αλλά η θέληση μου πάντα να ασχοληθώ με αυτό και η ώθηση της αγοράς στο Digital με έκαναν να επιλέξω το συγκεκριμένο Diploma. Στην αρχή η αλήθεια είναι ότι ειπα στο εαυτό μου "διάλεξες λάθος κλάδο να ασχοληθείς" γιατί δεν καταλαβαινα και πολλά. Όμως, ήρθε η στιγμή της εργασίας όπου προσπαθήσαμε να κάνουμε πράξη όσα είχαμε διδαχθεί, και εκεί αντιληφθηκα ότι είμαι στο σωστό μέρος, την σωστή στιγμή και με τους σωστούς instructors, αφού μεσα σε 4 ώρες με ομαδική εργασία είχαμε ετοιμάσει μια πλήρη στρατηγική. Το δίπλωμα αυτό καλύπτει τρομερά μεγάλη ύλη μέσα σε μικρό χρονικο διάστημα, όπου μαζι και με τα best practices από τους instructors και την δίκη σου θέληση να ασχοληθείς με αυτό, μπορείς όντως να μετατραπεις σε έναν digitalsuperhero!!
Keep up the good job KnowCrunch! Looking forward to the upcoming new diplomas!
Θεωρώ την ψηφιακή παρουσία απαραίτητη στις μέρες μας!Ειχα αρκετή «σκόρπια» γνώση από το Ίντερνετ και είχα αναλάβει καποιες μικρες συνεργασίες. Ψάχνωντας λοιπόν πως μπορώ να ασχοληθώ σοβαρά με αυτό, κατέληξα μετα από αρκετή έρευνα στο course της Know Crunch! Μπορείς να μάθεις όλες τις πτυχές του ψηφιακού μάρκετινγκ και μετα να αποφασίσεις με ποιο θέλεις να ασχοληθείς ενδελεχώς! Το community που δημιουργειται ειναι φοβερό και μπορώ να πω πως άξιζε κάθε στιγμή του!
Το digital diploma με βοήθησε να κατανοήσω την λογική του digital από το Α εως το Ω και σίγουρα μου έδειξε το σωστό δρόμο ώστε να προωθώ την δουλεία μου στοχεύμενα και με επιτύχια.
Το σεμινάριο της knowcrunch ήταν ότι πιο πλήρες έχω βρει από την έρευνα αγοράς που έκανα σε πανεπιστήμια της Ελλάδας και του εξωτερικού. Μέσα σε τρεις μήνες έμαθα πάρα πολλά πράγματα για την διαφήμιση στο διαδίκτυο και κυρίως μπόρεσα μέσω των εργασιών που μας έδιναν οι instructors, να δω πως εφαρμόζονται και στην πράξη. Οι ομιλητές ήταν όλοι εξαιρετικοί στη δουλειά τους αλλά και πολύ προσιτοί και φιλικοί. Υπήρχε ένα πολύ ζεστό κλίμα στην τάξη και όλοι μαζί ομιλητές και μαθητές γίναμε μια μεγάλη παρέα και περάσαμε αξέχαστες στιγμές . Ήταν ένα υπέροχο τρίμηνο που θα έχω να θυμάμαι.
During your learning
Do I need a laptop to attend the course or participate in team exercises?
During our course, a laptop is good to have in order to keep up with all lectures and the team or personal exercises. We always provide a desk, free wi-fi access and power supply for all attendants.
What is the minimum attendance required?
Good attendance is important and there is a strong link between academic performance and consistent attendance so we have a compulsory attendance rule:
You need to attend at least 90% of the course's class. In case your absences exceed 10% of class total hours you will not be allowed to participate in our exams and receive your certificate or diploma.
Can I repeat a topic or lesson I missed?
YES. You will be able to visit our next available course and attend the class you missed. Just send us an email and let us know! Re-admissions and seating is on a first-come-first-serve basis and subject to capacity.
Do I gain access to learning presentations & bonus material?
YES. You will have online access to all course's educational material (presentations in PDF format and bonus material) during the course. The educational material is strictly copyrighted and available for your own use only.
How often is the content updated or sections/lessons upgraded?
We upgrade and enrich our sections & lessons monthly. When there are new things that need to be part of our syllabus we just include it.
We update our training presentations & bonus material daily! We never keep old stuff for our training. When something changes or is about to change, it becomes part of our curriculum.
We update our training videos quarterly! When something critical changes we move into production and deliver new videos.
Before enrolling
Why is this course better than other courses available?
Excellent qualified professionals are assets for their companies and this course is designed for those fashion ambitious and observant individuals who are eager to dive into the industry's evolving trends and demands.

Our syllabus is exceptional
80% of our topics are exclusive and cannot be found in our competition
Educational material is updated until the last moment before each class
Proper length guarantees more class & hands-on hours than competition
More than enough exercises so you can practice as you learn on actual strategies
Topics cover all fashion marketing, operation and business fundamentals in depth - not just 'some' basic stuff
Our instructors are the best professionals
Instructors are market leaders with hands-on operating experience
Instructors have training experience and can teach & mentor others
Instructors show personal interest for each student
Instructors participate in most of the class lectures or exercises
Two or more instructors are always available in class to answer your questions
We care about your career and growth after completing the course
Frequent networking events help graduates collaborate and move forward
Immediate access to jobs, labels or brands with 80% hiring rate
We actively introduce and guide best students to jobs in brands, fashion labels and corporations
Who is this fashion marketing course for?
This program is designed for people who wish to extend & enhance their existing career in the fashion industry:
Fashion executives

Fashion influencers & bloggers

Freelance fashion designers & stylists

Fashion entrepreneurs
Fashion students & graduates of fashion design schools & colleges

Fashion faculty & Academics
This course will also boost companies & organizations to enhance their existing business model & marketing mix:
Fashion brands, small labels & corporations
Fashion shops
Fashion marketing agencies
Fashion consulting firms
Fashion importers & manufacturers

Fashion bloggers, media & publishers
Are there any prerequisites necessary for this training?
No specific prerequisites are necessary for this course.

However, our training is aimed at individuals, organizations and companies with some basic understanding OR some previous experience OR graduates from academic majors of the following topics: Marketing or/and communication or/and sales or/and public relations or/and fashion design.
Prices & payments
Can I cancel anytime? Do I get a refund if I do?
Cancellations
You can cancel anytime before the course's kick-off day.
Refunds policy
Please pay attention to our cancellation & refunds policy:
Cancellations received 15 days before the course will receive 100% refund of the amount paid.
Cancellations received 14 - 1 days before the course will receive 50% refund.
Cancellations received after the start of the course WILL NOT be eligible for ANY refund and you must complete all of your outstanding payments in case you are paying in installments.
Do prices include taxes? How do I pay?
Prices & taxes
Prices for all different tickets are inclusive of all fees & applicable taxes.
Payments
Your registration is binding and a payment is required before you book your seat. You can pay by credit or debit card only.
Payment by installments
Installments are available for our in-class & e-learning courses and can be offered when you pay by credit or debit card only. Please mind that if you fail one of the installments your account freezes and you will not be able to continue your course until repayment.
Outcome after this course
Is there an official alumni I can be part of?
All of our graduates become members of our official alumni group. The privileges & benefits for our alumni are:
Special price for all returning graduates for our courses
Exclusive subscription price for unlimited use of our e-learning courses
Special discounts for Master degrees offered exclusively to our graduates from other Universities or colleges
Personal recommendations from our instructors (upon request)
Free participation to one-day special crash courses
Free participation to networking events

How am I going to benefit after completing this fashion marketing course?
After successfully completing this course you will be able to:
Understand the fashion consumer behaviors & decisions
Form and implement a fashion business strategy & action plan
Form and implement a fashion marketing strategy & budget
Organize your fashion production to generate more collections
Communicate successfully your fashion brand's message
Create & run effective marketing campaigns for your fashion label
Leverage digital & social media for your fashion marketing promotion
Create compelling content for your consumers & marketing needs
Master advanced communication principles
Distribute, promote and sell your collections internationally
Certification
Do I get a certification?
Successful graduates
Students who successfully pass the exams and graduate receive an official and recognizable professional diploma.
Non successful graduates
Students who do not pass the exams receive a certificate of attendance.
Recognition
This certification, is trusted by major agencies and the international industry. When you are certified by us, your customers, co-workers and partners are assured that you are committed to staying at the top of your market as a professional.
Certification validation
Certifications are valid only after a graduation ceremony or/and when downloaded from our website. Valid certifications consist of:
Degree description
Graduate name & last-name
Credential ID (for confirmation purposes)
Issue date & expiration date
All certifications can be validated on our website or upon request.
Sample certificate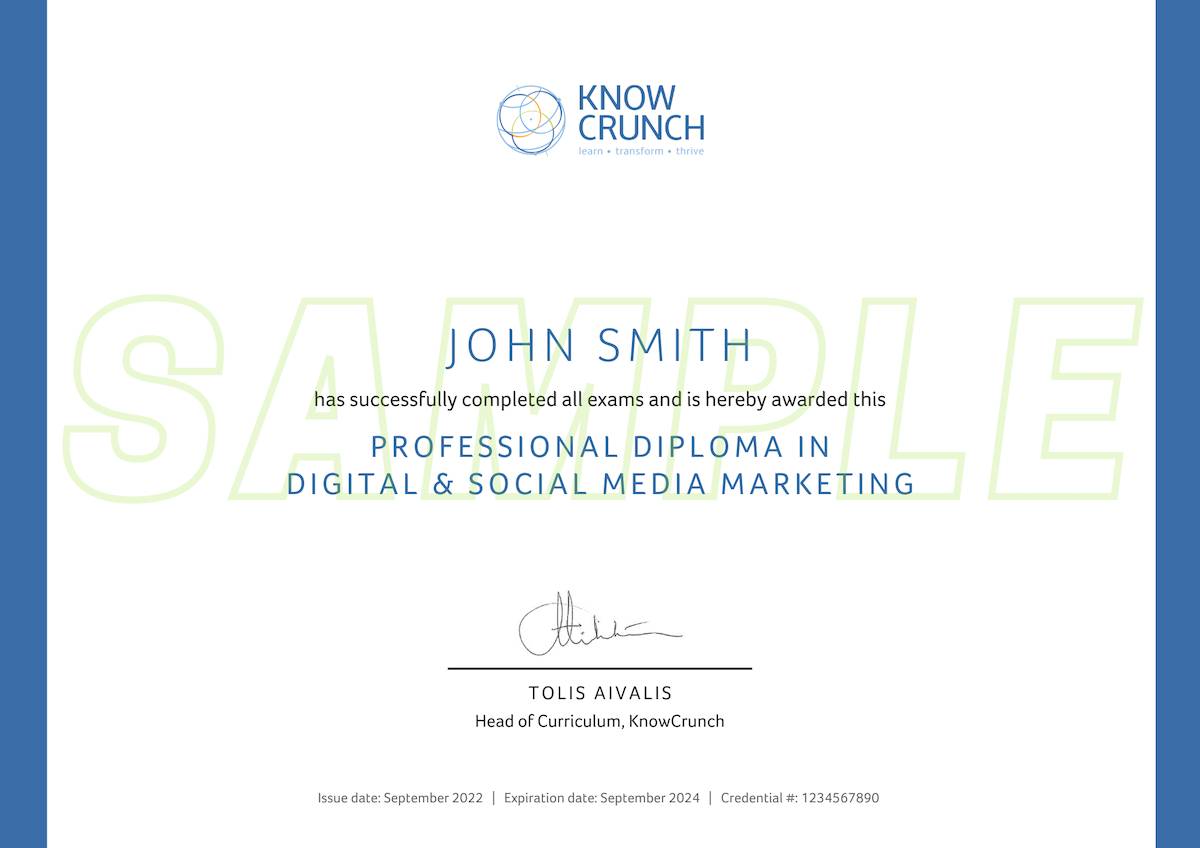 Do I take exams? Which is the success score? What if I fail?
Are there any exams?
Yes. You take exams when you complete your training.
Exams success score
In order to be successful and eligible for your certification you need to have a grade of at least 70% in your exam score.
Exams failure
If you fail to pass your exams we allow you to try again but you would need to enroll to our course again in order to update your knowledge.
Covid-19 information
What will happen if we are not allowed to attend in a class? Do classes get canceled?
In case of any health lock-down or emergency, we offer our training in a virtual class (via live webinar in Zoom). Training takes place the same day & hour as scheduled. All students can attend from the comfort of their home while collaborating with other students or instructors. In our virtual class students can:
Share their video, audio, files, presentations, screen
Participate in team exercises
Raise hand and ask question