Advanced Facebook advertising course!
An advanced professional course on Facebook ad manager, tags, audiences and all different advertising campaigns & objectives. This course offers thorough step-by-step tutorials on how the new Facebook ad manager works.
Course learning outcomes
After completing this course:
You will be able to fully understand all Facebook's advertising campaigns.
You will have the ability to setup, manage & optimize different ad objectives.
You will be able to identify problems, evaluate strategies, and develop solutions for your campaigns.
You will demonstrate the ability to evaluate Facebook campaign results of any kind.
You will be able to to create cohesive, persuasive ad creatives for different channels & placements.
You will be ready to integrate and apply Facebook advertising strategies and propose a complete media plan.
23 hours video learning & practice
Study and learn from the comfort of your home with video-on-demand learning. Watch video lessons on demand. Start and stop anytime you want, any hour of the day.
6 months access to videos & files
Get all the time you need to watch and review our training many times. Complete faster than others and boost your speed to market.
Our awards
'Best Digital Marketing Education' in Greece, Social Media World Awards.
'Best Digital Marketing E-learning Course' in Greece, Education Leaders Awards.
The benefits of enrolling in Facebook advertising course
ACCESS TO PRESENTATIONS
Free access to valuable material & presentations during your course
INSTANT PERSONAL SUPPORT
Our students & alumni get free online support during their learning and after that
CAREER OPPORTUNITIES
Our alumni has priority on notifications about job offers & positions
ACCESS TO FREE MEETUP EVENTS
Our alumni gets free tickets for monthly mix & match or meetup events
ACCESS TO FREE RECAP EVENTS
Our alumni gets free tickets for annual recap events or congresses
SPEC ANNOUNCEMENTS
Our alumni gets notifications about marketing specs (calls for proposals)
Step-by-step topics about Facebook campaigns
About this Facebook Advertising Course
Digital Advertising Channels & Platforms - Fundamentals
Facebook Business Manager
Facebook Advertising Manager
Facebook Advertising Awareness Campaigns
Facebook Advertising Reach Campaigns
Facebook Advertising Traffic Campaigns
Facebook Advertising Post Engagement Campaigns
Facebook Advertising Likes Campaigns
Facebook Advertising Events Responses Campaigns
Facebook Advertising Video Campaigns
Facebook Advertising Lead Generation Campaigns
Facebook Advertising Messages Campaigns
Facebook Advertising Conversions Campaigns
Facebook Advertising Product Catalogue Sales Campaigns
Facebook Advertising Mobile App Installs Campaigns
Facebook Advertising Store Traffic Campaigns
Facebook Advertising Remarketing Campaigns
Facebook Advertising Campaigns Management & Optimization
Performance Marketing (Campaigns Conversion Rate Optimization)
Digital Advertising Strategy & Media Plan
Digital Advertising Strategy & Media Plan Exercise
Facebook Advertising Services
Facebook Advertising Course Epilogue
Professional instructors specialized on Facebook ads
Awesome things our graduates say about Facebook course
Άριστα οργανωμένα όλα, καταπληκτική, δεμένη ομάδα που σε κάνει να αισθάνεσαι σιγουριά. Αυτό ξεχωρίζει για μενα στη KnowCrunch, οι άνθρωποι της! Οι γνώσεις τους και ο τρόπος με τον οποίο σου μαθαίνουν πραγματικά Digital marketing! Η μετοδοτικότητα των instructors, η ξεκάθαρη δομή και ροή των μαθημάτων και η άμεση πρακτική των όσων διδάχτηκα με βοήθησαν να αλλάξω τρόπο σκέψης.
Πολύ ωραία δομημένο το όλο σεμινάριο. Οι instructors γνώστες του αντικειμένου, τα θέματα ενδιαφέροντα από την αρχή μέχρι το τέλος. Οι γνώσεις που αποκόμισα πλούσιες που με βοηθούν στο να χτίσω μια νέα καριέρα.
Το course ήταν πάρα πολύ ενδιαφέρον τόσο για όσους ασχολούνται ήδη με το digital marketing για περισσότερη εμβάθυνση στο αντικείμενο αλλά και για όσους έχουν πολύ βασικές γνώσεις. Κάθε εκπαιδευτική ενότητα παρουσιαζόταν με πολύ λεπτομέρεια και με πολλά αντιπροσωπευτικά παραδείγματα. Εξαιρετική ύλη. Πολύ βοηθητικά τα videos. Οι instructors πολύ καταρτισμένοι και με σημαντική γνώση του αντικειμένου τους. Μια συνολικά ολοκληρωμένη και ενδιαφέρουσα εμπειρία!
Έμαθα γι' αυτό το σεμινάριο από συνάδελφο. Η παρακίνησή του με οδήγησε να κλείσω τη θέση μου. Mετά από αυτό το σεμινάριο αμέσως έρχεται στο νου μου το advocacy ;) Από την πρώτη στιγμή, λοιπόν, κατάλαβα ότι πρόκειται να δώσει νέα πνοή στην καριέρα μου. Άμεσο, περιεκτικό, χρηστικό και πρακτικό. Ένα σεμινάριο όπου η θεωρία γίνεται πράξη. No more theories, no more waste of time. Ευχαριστούμε KnowCrunch!
This has been an amazing journey. I've learnt so much for social media and digital marketing in such a short period. All the instructors are highly motivated, experienced and supportive.
Future digital marketers…just do it!
Οι γνώσεις μου πάνω στο αντικείμενο βελτιώθηκαν πολύ, γεγονός που θα βοηθήσει την εταιρία μου και τις υπηρεσίες που προσφέρει.
Μετά τη παρακολούθηση του σεμιναρίου όλα γύρω σου μεταμορφώνονται στον digital χαρακτήρα τους!
It was a life changing experience. Great educational plan, great team, great instructors. Very well curated and updated content and inspiring lectures that change your mindset.
Ένα ολοκληρωμένο course που σου δίνει όλα τα εφόδια για να ξεκινήσεις με αυτοπεποίθηση στο χώρο του social media marketing. Οργανωμένη και συνεχώς ανανεωμένη ύλη, με πολλά extras που σου δίνουν ερεθίσματα για να βελτιώσεις τις δεξιότητές σου , εισηγητές με μεταδοτικότητα, που ξέρουν το αντικείμενό τους και μπορούν να σε εμπνεύσουν.
A very effective approach on the subject. No matter your level of expertise, you will definitely gain a lot out of this. The best up to date/constantly evolving course, for the ever-changing world of digital marketing.
As I did not have any previous experience in social media, the seminar was an enlightenment for me!It covered all aspects and the instructors were superb!
Frequent questions & answers about Facebook course
Outcome after this course
Is there an official alumni I can be part of?
All of our graduates become members of our official alumni group. The privileges & benefits for our alumni are:
Special price for all returning graduates for our courses
Exclusive subscription price for unlimited use of our e-learning courses
Special discounts for Master degrees offered exclusively to our graduates from other Universities or colleges
Personal recommendations from our instructors (upon request)
Free participation to one-day special crash courses
Free participation to networking events

Is there an active online community I can participate in?
The biggest Greek speaking community of marketers & digital marketers. 95% of members are active every day. Brands, agencies, professionals and students participate.

Feel free to join this group now and start networking, discussing, asking or answering anything about marketing. You can also post or explore job positions or just follow the news.
Certification
Do I get a certification?
Successful graduates
Students who successfully pass the exams and graduate receive an official and recognizable professional diploma.
Non successful graduates
Students who do not pass the exams receive a certificate of attendance.
Recognition
This certification, is trusted by major agencies and the international industry. When you are certified by us, your customers, co-workers and partners are assured that you are committed to staying at the top of your market as a professional.
Certification validation
Certifications are valid only after a graduation ceremony or/and when downloaded from our website. Valid certifications consist of:
Degree description
Graduate name & last-name
Credential ID (for confirmation purposes)
Issue date & expiration date
All certifications can be validated on our website or upon request.
Sample certificate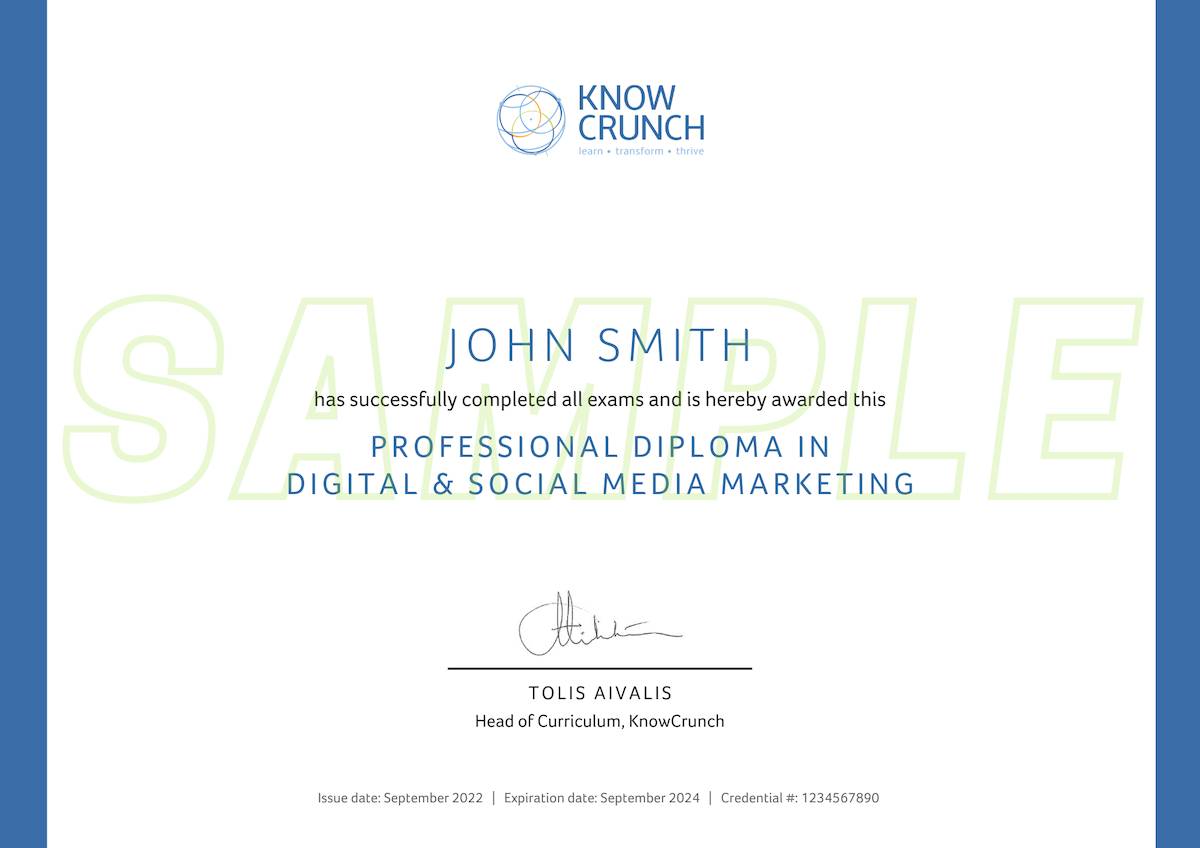 Do I take exams? Which is the success score? What if I fail?
Are there any exams?
Yes. You take exams when you complete your training.
Exams success score
In order to be successful and eligible for your certification you need to have a grade of at least 70% in your exam score.
Exams failure
If you fail to pass your exams we allow you to try again but you would need to enroll to our course again in order to update your knowledge.
During your learning
Can I watch the videos any time or day I want?
Yes. You can watch our videos anytime you want, any day you want. They are prerecorded and available on-demand.
Do I gain access to learning presentations & bonus material?
YES. You will have online access to all course's educational material (presentations in PDF format and bonus material) during the course. The educational material is strictly copyrighted and available for your own use only.
How often is the content updated or sections/lessons upgraded?
We upgrade and enrich our sections & lessons monthly. When there are new things that need to be part of our syllabus we just include it.
We update our training presentations & bonus material daily! We never keep old stuff for our training. When something changes or is about to change, it becomes part of our curriculum.
We update our training videos quarterly! When something critical changes we move into production and deliver new videos.
Prices & payments
Do prices include taxes? How do I pay?
Prices & taxes
Prices for all different tickets are inclusive of all fees & applicable taxes.
Payments
Your registration is binding and a payment is required before you book your seat. You can pay by credit or debit card only.
Payment by installments
Installments are available for our in-class & e-learning courses and can be offered when you pay by card only. Please mind that if you fail one of the installments your account freezes and you will not be able to attend our course until repayment.
Refunds policy
Please pay attention to our cancellation & refunds policy. Cancellations received after the start of the course WILL NOT be eligible for ANY refund and you must complete all of your outstanding payments in case you are paying in installments.
Before enrolling
Is this e-learning course similar or different to a course offered in a class?
This course offers a thorough syllabus compared to any similar in-class course.
The similarities:
Our e-learning & in-class courses have the same C-level professional instructors
Our e-learning & in-class courses share the same exams
Our e-learning & in-class courses offer the same recognizable certification
The differences:
E-learning course offers more hours than a similar in-class course
E-learning course includes training about more strategies & channels than a similar in-class course
E-learning course has personal exercises while the course in a class has team exercises
Why is this course better than other courses available?
This course is the most comprehensive in terms of competition. It has an extremely competitive fee with flexible payment options and the certification is the most recognizable diploma coming from two leading organizations. Furthermore this training is better compared to others because:
Our syllabus is exceptional

70% of our topics are exclusive and cannot be found in our competition
Education material is updated daily
Proper length guarantees more hands-on hours than competition
Personal exercises so you can practice as you learn on actual strategies
Topics cover all digital & social media fundamentals in depth - not just 'some' basic stuff


Our instructors are the best professionals

Instructors are market leaders with hands-on operating experience
Instructors have training experience and can teach & mentor others
Instructors show personal interest for each student
Instructors participate in most of the class lectures or exercises
Two or more instructors are always available in class to answer your questions
We care about your career and growth after completing the course
Frequent networking events and the biggest active Community of Digital Professionals help students collaborate and move forward
Immediate access to digital & social media jobs, agencies or brands with 80% hiring rate
We actively introduce and guide best students to jobs in brands, digital agencies and corporations
Who is this Facebook advertising course for?
This Facebook advertising course is designed for individuals with or without prior experience. More specific this program is targeted to:
Head of Digital
Social Media Managers / Specialists / Consultants
Content Specialists / Marketers
Influencer Specialists / Marketers
Digital & Social Media Analysts
Digital & Social Media Advertising Professionals
Google Advertising Professionals / Freelancers
Entrepreneurs or CEOs into Digital & Social Media agencies
Publishers / Bloggers / Influencers
Content Producers (Copywriters, Graphic Designers, Video Producers)
Are there any prerequisites necessary for this training?
No specific prerequisites are necessary for this course.

However, it would be useful if you had a website or a landing page that you want to send traffic to. If you don't have a landing page or website yet, you should still enroll in this Facebook & Instagram Advertising course. All you need is your laptop and Wi-Fi.
Subscribe for 6 months now
Special
€550
For unemployed,
For students,
For unemployed,
3 monthly payments for credit or debit cards.